News and Events
SCI-FEST 2019:
To appreciate and encourage scientific endeavours of young minds Thapar Institute of Engineering & Technology (TIET), Patiala celebrated SCI FEST 2019 on February 21, 2019. School of Physics and Materials Science, School of Mathematics, School of Energy and Environment; and School of Chemistry and Biochemistry came together to helm the organisation of this event. Eminent scientist Dr R. K. Sharma, former Director, Solid State Physics Lab (DRDO), New Delhi graced the occasion as the Chief Guest and Prof. Prakash Gopalan, Director, TIET presided over the function. Dr R. K. Sharma with his long career spent in forefront of scientific and technological innovations for the country was able to familiarise the students with the different career choices available in science. He encouraged the students to work towards the betterment of the society.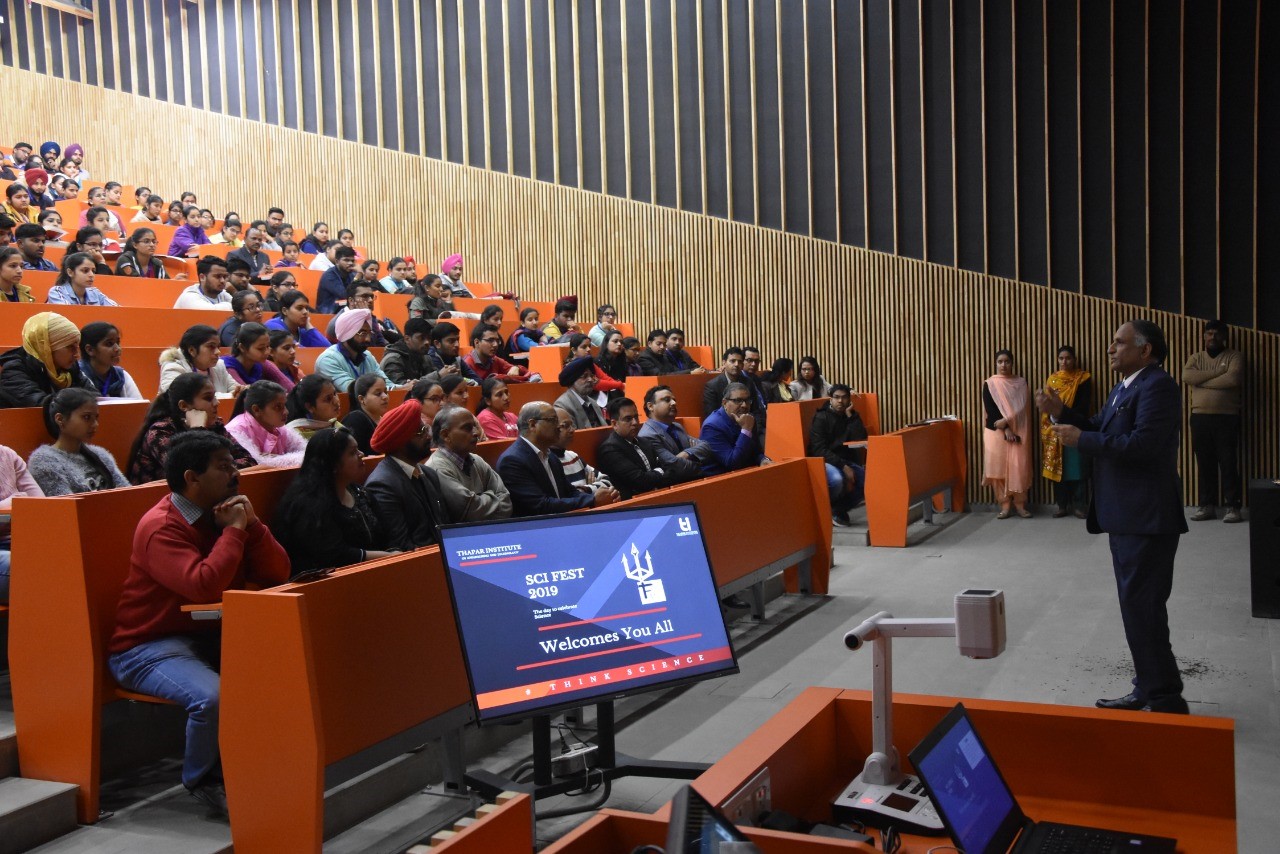 More than 300 undergraduate science students from various institutions and colleges of Punjab, Haryana and Chandigarh enthusiastically participated in SCI FEST 2019. Apart from the motivational lecture different competitions, such as, Poster Presentation, Scientific Quiz, Project Demonstration and Scientific Rangoli were organized as part of this event. The themes for the Poster presentation and Scientific Rangoli were "Work of eminent scientists highlighting their applications" and "Scientific Innovation". Innovative applications of fundamental scientific concepts were clearly visible in Poster Presentation and Project Demonstration events. Creativity of the students in blending the concepts of science into spell binding visual creations was evidenced during the Scientific Rangoli competition. Quiz consisting of multiple rounds was keenly fought out to the end among 14 teams.
Government Mohindra College Patiala got the first positions in Poster Presentation for Chemistry and Physics stream, while Khalsa College for Women Ludhiana got the first position in Mathematics stream. Govt. Mohindra College Patiala, Khalsa College for Women Ludhiana and CGC Landran were the winners of Scientific projects in Chemistry, Mathematics, and Physics stream, respectively. Khalsa College Patiala was the winner of Scientific Rangoli event and Modi College Patiala was the winner of quiz competition. Teams holding first, second and third position in the events were presented with Trophies, Momentos and Certificates
Thapar Mathematical Society (TMS) organised a lecture series on Partial Differential equations and its applications on March 29-30, 2019. The two-day lecture series gave a detailed insight of partial differential equations from elementary to research level and will help accustomed with its real-life applications.
Speakers were Dr. Jitender Singh (GNDU, Amristar) & Dr. Dilbag Singh (PU, Chd).
EXPERT LECTURES:
Invited talk/guest lecture by visiting experts in SOM from July 2016 – till date
S.No.
Name of the speaker
Affiliation
Title of the talk
Date
Venue

1.

Dr. C. S. Lalitha

Delhi University

Mathematics of Tomography

20/08/2016

G 303

2.

Dr. B.K. Mohanty

IIM Lucknow

Business Decisions using spreadsheets

and Fuzzy sets

17/10/2016

G 303

3.

Prof. S Bhargava (Retired)

University of Mysore

A brief look at Life and Works of Srinivasa Ramanujan

20/10/2016

G 303

4.

Prof. Shobha Madan

IISER Mohali

Counting and Measuring: Cantor and Kakeya

15/02/2017

T 105

5.

Prof. Neeraj Misra

IIT Kanpur

Mathematical Thinking

18/08/2017

G 303

6.

Prof. Bo Chen

University of Warwick, UK

Analysis of a Procurement Game with Option Contracts

12/01/2018

G 303

7.

Prof. Suresh Chandra

IIT Delhi

Mathematics Behind Machine Learning

10/05/2018

G 303

8.

Prof. Sudesh Kaur Khanduja

IISER Mohali

A Journey through Irreducible Polynomials

29/09/2018

G 303

9.

Ms Bimaljeet Kaur

TCS

Information Technology and Knowledge Management

20/02/2019

CILP Hall

10.

Dr. Mehmet Emir Koksal

Ondokuz Mayis University, Turkey

Commutativity of Continuous and Discrete Time-varying Systems

06/03/2019

G 303
ACHIEVEMENTS OF THE STUDENTS
Two M.Sc, 2nd year students, Vandhna and Medha, won the first prize for their model "Rubik's Cube, an application of modern Algebra" at the National level Exhibition "Mathematics at Work" organized by Sanatan Dharam College (Lahore), Ambala Cantt (Haryana) on October 23, 2018.
Rajenki Das (MSc 2nd year) and Soham Banerjee (BE-ELE, 2nd year) had won the regional round of Tata Crucible held at IISER Mohali. The team subsequently participated in the North Zone round held at The Taj, Delhi and came as runners-up.
Madhu Aneja, PhD student in SOM presented a research paper in 19th international conference on "Computing Science & Mathematics" held in Melbourne, Australia on 29-30 Nov, 2017. This visit was sponsored by TIET, Patiala.
Tarun kumar, PhD student participated in a poster presentation at the University of Alberta, Canada.
Komal Singla, Research Associate in SOM presented a research paper in International conference of Mathematician held at Rio de Janerio, Brazil.