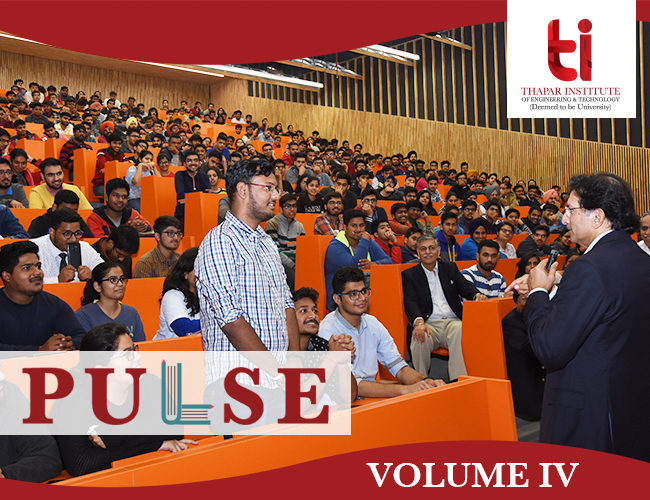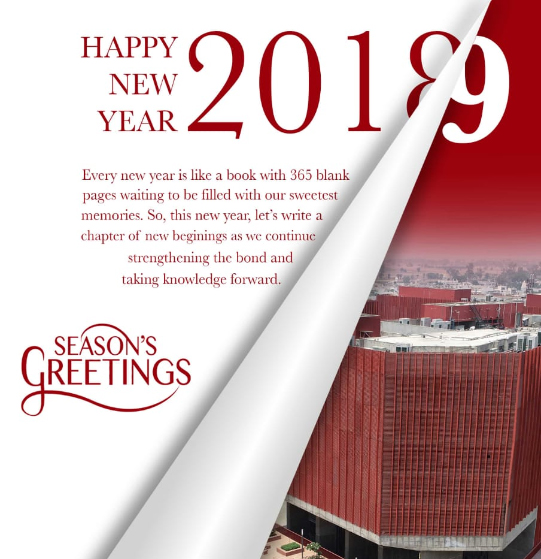 Sharing knowledge. Creating success.
Let's kickstart the new year by cherishing the highlights from the last quarter.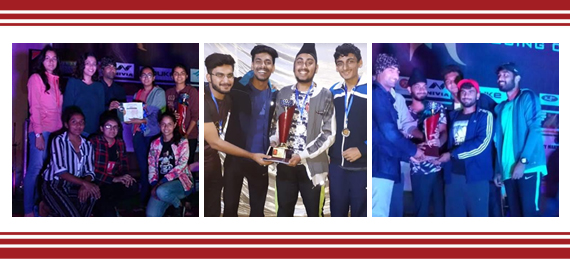 TI teams display tremendous performance in RANN NEETI'18, a national level sports fest organised by IIT Mandi. In total, 29 institutes participated in this tournament.
Gold medal in Basketball and Lawn Tennis (boys)
Silver medal in Basketball (girls) and Table Tennis (boys)
Winning run at Inter Technology University Tournament 2018-19, organised by ITUSA, NIT Kurukshetra. Basketball (boys) team retain the title for the fourth consecutive year. Table tennis (men) and yoga (women) teams won silver medals, while Table tennis (women) and Basketball (women) teams won bronze.

TI wins Infosys Digital Makeathon 2018 (AI, Blockchain & IOT Hackathon).



The team developed architecture and working prototype of a 'Credit Card Fraud Detection System' using Artificial Intelligence and Machine Learning, under the guidance of Dr. Prashant Singh Rana. The team bagged the first position and received a cash prize of Rs.20,000, beating teams from IITs, DTU, PEC and NSIT, amongst others.
Shivam Goyal (1st Year, BE-COE) gets global rank of 1415 in picoCTF 2018, CMU Cybersecurity Competition. He scored 6435 amongst 16143 teams, including students from Harvard, MIT, CMU, IITs and many others.
| | |
| --- | --- |
| "TAAL-MEL", a SPICMACAY event, had performances by Ustad Nishat Khan and Ustad Shariq Mustafa. | Nava Nalanda Central Library, TI organised a two-day Nanotechnology Book Exhibition on the occasion of Nanotechnology Day |
| | |
| --- | --- |
| VIRSA 2018, celebrated the land of five rivers with an array of Punjabi cultural activities. | SCBC organised a guest lecture on "Perspectives and Challenges in Drug Research: Design and Synthesis of Nitrogen Heterocycles as Novel Therapeutic Agents " by Dr. P.M.S. Chauhan. |
| | |
| --- | --- |
| SCBC organised a guest lecture in affiliation with the Department of Organic Chemistry, IISc Bangalore. Guest speaker Prof. Uday Maitra spoke on 'Molecules Which Defy Rules'. | CAPSL session by Thapar-Trinity fellow, Dr. Rajesh Khanna, Professor, Dept. of Electronics and Communication Engineering. |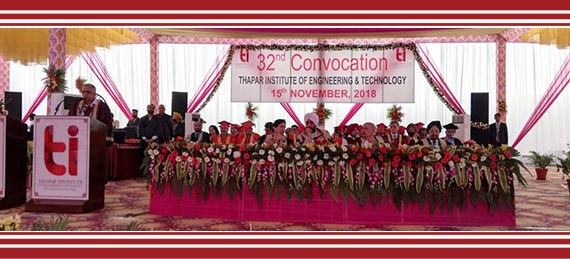 32nd Convocation Ceremony (2018) at Patiala campus. A celebration of academic excellence and achievements. President TI, Mr. Gautam Thapar interacted with students.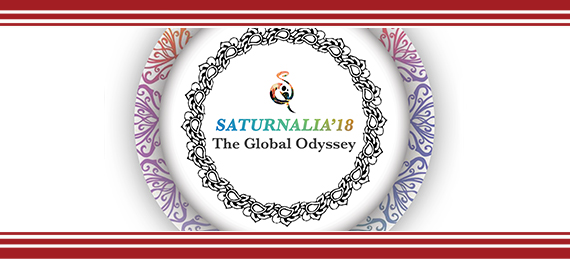 Saturnalia 2018 brought a truly global experience with interactive guest lectures, cultural exhibitions and spectacular performances.
| | |
| --- | --- |
| Rotaract Club of Thapar Institute of Engineering & Technology organised 'Good Touch Bad Touch' workshop for children studying under Pratigya Society. The workshop included a session by club students explaining consent and the difference between types of touches. In conclusion, a mini session was held with girls above 13 years, where sanitary napkins were provided., The workshop included informed about sanitary napkins usage and advantages, proper disposal, and changes during menstruation. | Organised and hosted by Department of Biotechnology, TI, and co-hosted by Tel Aviv University, Israel, International Conference on Food Security 2018 aimed to address the emerging challenges of food security in India. Panels for the conference included eminent thought leaders, visionaries, scientists, academicians, policymakers & administrators, and industry experts from India and abroad. |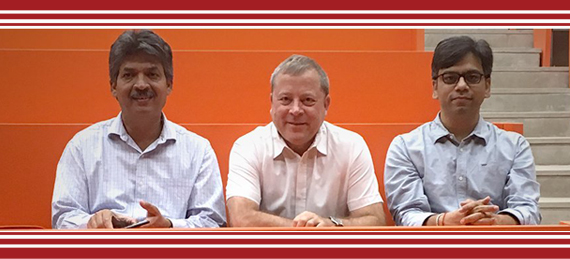 Prof Yossi Rosenwaks, Dean of Engineering, Tel Aviv University visited the campus to strengthen research collaboration between TIET and TAU through a special 3+2 Food Security Programme.
| | |
| --- | --- |
| Ms Melissa McArdle, delegate from University of Queensland, Australia visited the Patiala campus. We had signed a 2+2 agreement with the varsity on 26th September | Dr. Hans van Ees, Dean of University College Groningen visited TI and interacted with the School of Humanities and Social Sciences. |
| | |
| --- | --- |
| | Dr. Shivendra Shivani of Computer Science and Engineering department has written a book entitled "Handbook of Image-based Security Techniques" published by CRC Press, Taylor & Francis Group. The purpose of this book is to provide guidelines to readers to enhance the research-oriented concepts of Visual Cryptography, Watermarking and Steganography. The book encourages and empowers readers to rejuvenate their innovative imaginations in the field of image-based security. According to the author, this book is advantageous to all instructors and researchers of this field. |
| | |
| --- | --- |
| | Dr. Amandeep Oberoi of Mechanical Engineering department was invited by The Elsevier Foundation to attend a week-long Summer School on 'Sustainable Chemistry for Sustainable Development' at Leuphana University, Lueneburg, Germany he entire trip was sponsored by The ELSEVIER FOUNDATION, Netherlands. He also attended The BRICS Youth Energy Summit at Moscow, Russia. |
Dr. Satish Kumar Sharma of Mechanical Engineering department studied the effect of heat-input and cooling-time on bead characteristics in SAW. His research deals with issue of control on bead geometry and shape relationship parameters, and their dependency on high heat of welding, especially High Strength Steels used in the oil and gas pipeline industry. The research highlights the better utilisation of materials and energy for efficient production dependent on various process parameters of Welding.
| | |
| --- | --- |
| Congratulations alumnus Rajesh Uppal named 'Technovator of the Year' at the Cybermedia Digital Leadership Conclave. Rajesh Uppal is the Sr. Executive Director - HR & IT, Maruti Suzuki | Dr. Vijay Goel, a TI 1962-66 alumnus was honoured with the Sheikh Hamdan Bin Rashid Al Maktoum Award for Medical Sciences in Orthopedic Mechanics. |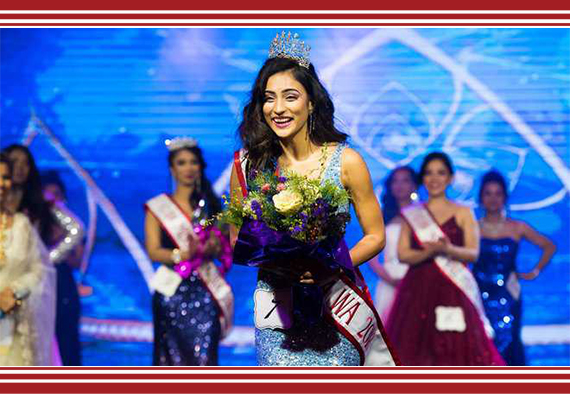 Milanpreet Kaur, alumna was crowned Miss India Washington, USA 2018.
Phoola Kaul, spouse of a TI alumnus penned down a beautiful story named "Reminiscence Thru the Eyes of a Spouse" from her husband's memories of the college and sent it to us as a token of gratitude. Read more
Tarun Jain (Chemical Engineering, 2008) worked on "Acetonitrile Dehydration via Extractive Distillation Using Low Transition Temperature Mixtures as Entrainers" with his team members and found a novel solvent known as Deep Eutectic Solvent GC3:1, which is a potential entrainer for separating the azeotrope of Acetonitrile-Water mixture.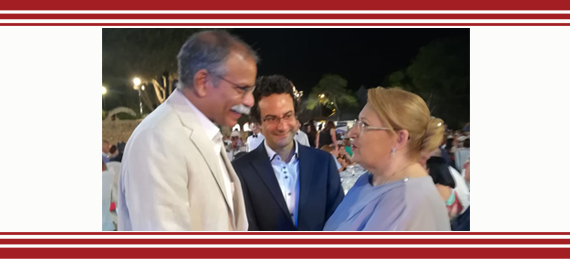 Her excellency, the President of Malta, Ms. Marie-Louise Coleiro Preca, recently met Dr. Padmakumar Nair, Dean, LM Thapar School of Management. The duo discussed collaborations between University of Malta and LMTSM.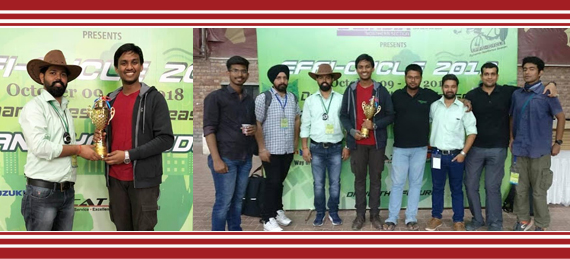 Avijith Mandhata won the "Best Alumni Award" in Efficycle 2018, a platform that provides an opportunity to students to conceive, design and fabricate a three wheel configuration vehicle, powered by human-electric hybrid power and capable of seating two passengers catering to the day to day mobility needs.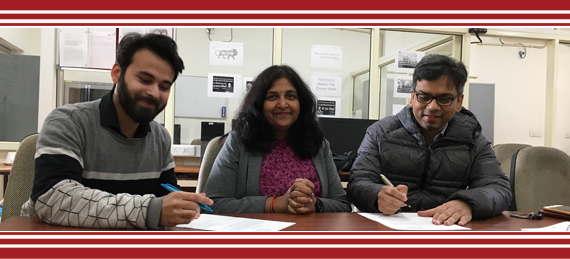 Department of Electronics and Communication Engineering, TI signed a Memorandum of Understanding with UnsaidTalks to showcase Capstone projects. The shared knowledge will help future Capstone project groups select, experiment and extend previous projects. It'll be a great platform to showcase the efforts of our ECE students.
Vijay Goel, a Thapar alumni and the awardee of International Award for Medical Sciences by Deputy Ruler of Dubai, made it to the headlines for explaining how long hours of driving can cause back pain.
NOX NITE - dance performance evening - 8th February, 2019.
URJA 2019 - inter institute sports festival - 15th to 17th February, 2019.
ECLECTIZA '19 - inter university literary cum cinema & startup expo fest - 22nd to 24th February, 2019.
IZHAAR 2019 - inter year cultural festival - 28th February to 2nd March, 2019.
Editorial Co-ordinator:
Dr. Sheena Chhabra & Mr. P.B. Sukumaran
Designed & Developed by: OMLogic