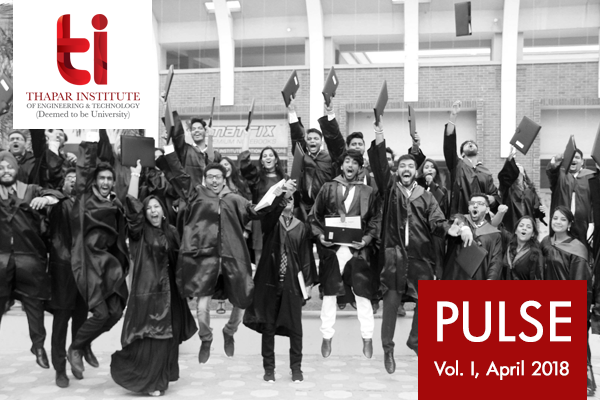 Nurturing Minds - Shaping Future
Globally ranked, international partnerships and more - This is the old yet new Thapar Institute of Engineering & Technology.
It has been a year of milestones and achievements! Thapar Institute of Engineering & Technology ranks in the prestigious Times Higher Education (THE) World University Rankings 2018, the QS BRICS University Rankings 2018, and the QS Asia University Rankings 2018 - scoring an impressive hat-trick. Our accreditations include National Assessment and Accreditation Council (NAAC) UGC; ABET; and National Board of Accreditation (NBA). Established in 1956, with the then Indian President Dr. Rajendra Prasad inaugurating the institution, the quality of our curriculum, courses, teaching pedagogy, faculty and infrastructure remains unparalleled. Every year, thousands of young minds graduate and go on to excel in India and overseas. Our alumni shine in amazing diverse fields - from business and industry, administrative and regulatory services, start-ups, IT and Automation, biotechnology, research and education, to social and not-for-profit organizations.

| | |
| --- | --- |
| Commodore Rakesh Anand, Chairman & MD, Mazagon Dock Shipbuilders Ltd., gets nostalgic about his #TU days, while sharing thoughts on being awarded with the Distinguished Alumni Award, during the University's 31st Convocation. | Mr. Rajesh Uppal, Executive Director, IT and Education & Training, Maruti Suzuki India Ltd., a TIET alumnus talks about the strong foundation Thapar Institute of Engineering and Technology provides to its students. |

Designed by Mccullough-Mulvin Architects and built as per the international standards, our modern infrastructure provides comfort, convenience and perfect learning environment to every dreamer at Thapar Institute of Engineering and Technology.
| | |
| --- | --- |
| New Men's Residences | New Women's Residences |

They say 'what's in a name', we say, identity, character, and integrity.
| | |
| --- | --- |
| | Thapar University is now Thapar Institute of Engineering and Technology or TIET (Deemed to be University). It's just the name that has changed, our values, ethics and zeal to excel remains the same. |
Thapar Institute of Engineering & Technology signs agreement with UNSW Sydney
Thapar Institute of Engineering & Technology signed an agreement with UNSW Sydney, that will enable TIET students of Electronics Engineering to join an international programme and learn from the best international faculty.
TATA MoU

Promoting collaboration in areas of academics, training and employment; TIET recently announced signing an MoU with Tata Motors. A great move that will mutually benefit both entities.

ABET Accreditation

Our B.E. Civil & Electronics Engineering programmes have been awarded the prestigious ABET Accreditation; in addition to the Mechanical Engineering programme accredited last year.
Thapar Institute of Engineering & Technology signs agreement with Tel Aviv University

Globally ranked Thapar Institute of Engineering & Technology signs a comprehensive institutional agreement with Israel's Tel Aviv University - this is in line with our strategic vision of international partnerships to enhance quality and reach.

Rankings

Engineering excellence is one of the core missions of TIET that we strive to achieve through quality teaching, research, knowledge transfer and international outlook approach. TIET has qualified various aspects of performance indicators to find its place among top university rankings by QS, THE, ARWU.

With over 120 sponsored projects to 700+ publications, TIET forges ahead on its quest to seek knowledge and fulfill a sense of accomplishment. In order to boost research activities, TIET has also joined hands with TCD.

INSPIRUS 2018

The INSPIRUS 2k18 by TIET Microsoft Students Chapter was an energetic, week-long event from 17th to 24th January 2018. With an array of thrilling contests and workshops, it witnessed an overwhelming participation from students.

Startup Expo 3.0

A flagship event for budding entrepreneurs to help them realise their startup ideas was held on 3rd and 4th Feb, 2018. Over 40 startups participated, out of which 18 shortlisted startups pitched their ideas to the esteemed panel of investors, accelerators and angel networks. Mr. Amit Kumar (VP, Quikr) and Karan Bharadwaj (CTO, XinFin - a Singapore-based blockchain firm) interacted with students and faculty on technical innovations.
URJA 2018

URJA'18 kicked off on 16th January 2018 with numerous pre-fest events like Gully cricket,Thapar Fitness League, Kite Flying, Futsal, Mess Workers Cricket, NBA Jam and Faculty Cricket. The main fest saw participation from 700+ candidates from 19 different colleges from all over North India.

Eclectiza

The third edition of the Annual Literary Festival included quizzes, English Poetry Slam, Challenger's Debate, J.A.M. and Hindi Presidential Debate. The key highlight of the 2-day event was a guest talk by Mr. Saurabh Dwivedi (Editor-In-Chief, The Lallantop). The turnout of participation was huge where many winners took home prize money along with exhilarating experiences.

Train the Trainer Programme 2018

A group of five TIET faculty members visited Trinity College Dublin as a part of Train the Trainer Programme 2018. It focused on three modules including Curriculum Design, Assessment & Feedback, and Reflecting & Evaluating higher educational teaching practices

TCD Annual Review 2018

A team of 14 members from TCD visited TIET for Annual Review on 26th February 2018. Faculty members from TCD conducted master classes on various topics for TIET 2nd year students. Workshops under CAPSL programme were organised for TIET faculty by experts from TCD on innovative aspects of teaching & learning.

ACUMEN - The Inter Hostel Literary Festival
An intriguing inter-hostel literary festival with events from debates and recitals to quizzes and plays.
| | | |
| --- | --- | --- |
| LMTSM | | TIET |
Editor: Ms. Shravani Dang
Editorial Co-ordinator: Ms. Sheena Chhabra & Mr. P.B. Sukumaran
Designed & Developed by: OMLogic