PROFESSOR PADMAKUMAR NAIR
APPOINTED AS DIRECTOR, THAPAR INSTITUTE OF ENGINEERING & TECHNOLOGY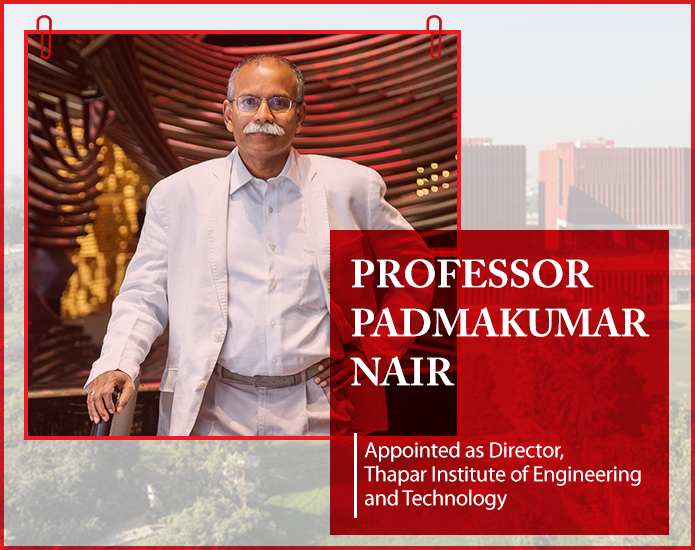 Professor Padmakumar Nair has been appointed as Director of the Thapar Institute of Engineering and Technology, Patiala, Punjab with effect from 13th January 2023. With him, we continue our journey to create innovators, researchers and entrepreneurs. Professor Nair has extensive leadership experience in both academia and industry. His association with the Institution, where he was a key contributor to TIET's transformation process, will ensure continuity of momentum.
He joined TIET in July 2013, and since then has successfully led LM Thapar School of Management to help students, faculty, and staff achieve their full potential. He has also been instrumental in setting up the Thapar School of Liberal Arts and Sciences. Prior to his current role, he served for over 10 years as a Clinical Professor and Academic Director for the Leadership Center at the University of Texas at Dallas, USA. He has been visiting professor at some of the leading global universities like the University of Tokyo (Japan and the University of Twente (The Netherlands). He has also functioned as a strategy consultant with some established global brands like IBM. An M. Tech from IIT Kharagpur, Professor Nair completed his Ph.D. in 1993 from the University of Twente, post which he earned another Ph.D. from the University of Tokyo. He also did an MBA from Heriot-Watt University in 1999. An empathetic and enterprising leader, with high levels of initiative and energy, we look forward to him leading TIET in achieving excellence in accomplishing its envisioned objectives.
DR RAJESH CHAKRABARTI
APPOINTED AS DIRECTOR & DEAN, LM THAPAR SCHOOL OF MANAGEMENT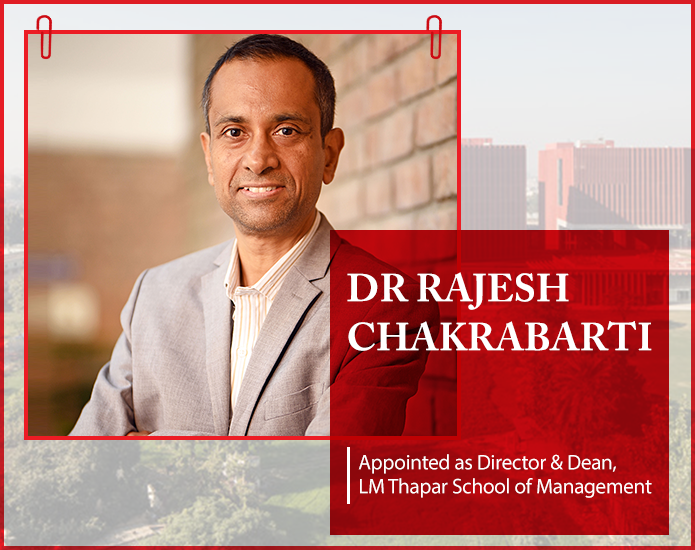 Dr Rajesh Chakrabarti has been appointed as Director, "Dera Bassi Campus", Professor & Dean - LM Thapar School of Management and School of Humanities & Social Sciences with effect from 16th January 2023.
Dr Rajesh comes to us with over 25 years of well-rounded experience in academia and administration, having worked with various academic organisations in India. Canada, and USA, including ISB, MDI & Jindal Global University in India; Georgia Institute of Technology and the University of California in the USA, and University of Alberta in Canada.

Revitalising sustainable solutions for food security through research partnership and collaboration
(Prof Moushumi Ghosh, Coordinator, TIET-TAU Centre of Excellence for Food Security)
The TIET-TAU Center of Excellence for Food Security at TIET embarks on several research projects pertaining to important issues in food security. All the projects are aligned with United Nations Sustainability Goals (UNSDG) 2030.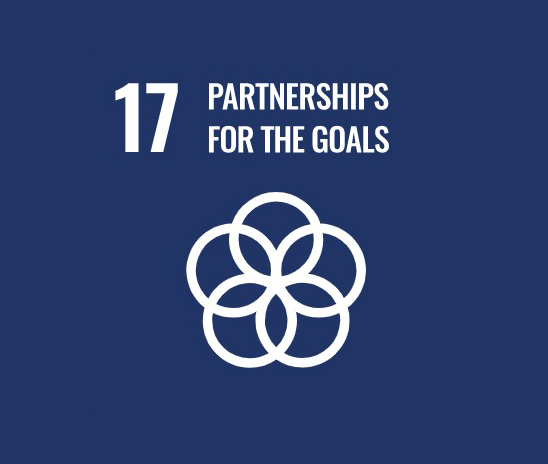 One of the ongoing projects, 'Biosensor platforms and development of affordable Technologies for mitigating post-harvest losses of perishable fruits,' aims to revitalise sustainable solutions for food security through research partnership and collaboration between Prof Moushumi Ghosh, Head, Microbial Biopolymer & Biosensor Research Laboratory, Dept. of Biotechnology and Coordinator, TIET-TAU Center of Excellence for Food Security, TIET; Prof Sefi Vernick Head Bioelectronics & Electrochemistry Lab. Department of Sensing, Information and Mechanization Systems Institute of Agricultural Engineering Agricultural Research Organization, Volcani Center, Israel; Prof Shachar Richter, Head, Department of Materials Science and Engineering Faculty of Engineering & University Center for Nano Science and Nanotechnology Tel Aviv University, Israel.
Globally, India is the second largest producer of fruits with rich diversity. However, as much as 43% of the fruits are wasted post-harvest due to poor supply chain logistics and the need for appropriate technologies to extend fruit shelf life. The project aims to develop sustainable technologies which can lead to reduced food waste, lower environmental burden, enhance producer returns and assure consumer quality of fruits which are of crucial relevance, as shown.
Research Partnership highlights: Prof Moushumi Ghosh innovated a chemo-responsive electroactive biopolymer-nanocomposite film (patent filed by TIET) which is being used for developing devices that can be used for nondestructive sensing of fruit quality and monitoring shelf life of fruits. The chemo-responsive electroactive biopolymer-nanocomposite film is being integrated into microelectronic chips by Prof Sefi Vernick and his research group. Fabrication of the designed microelectrode chips is being done at Prof Yosi Shacham's Laboratory. Prof Shachar Richter is involved in characterising the chemo-responsive electroactive biopolymer nanocomposites to develop readily usable electrospun fibrous scaffolds. The SMART sensor will have an IoT interface for rapid communicability of fruit quality information post-farm gate to producers and supply chain managers, ensuring the reduction of fruit wastage and economic returns.

A novel processing technology for consumer unacceptable, ripe/overripe fruits (Patent filed by TIET): Prof Moushumi Ghosh and her research team developed a probiotic fermentation & dehydration technology for guava. The developed powder has high nutritional attributes, suitable for all age groups. The powder can be developed into many different tasty food products within a few minutes. Other affordable technologies: Fruit coating materials to extend the shelf life of fruits using agro wastes. Bioplastics from fruit waste and underutilised fruits as green materials for packaging solutions. Other novel biomaterials for industrial use are being developed as sustainable and innovative technologies.
An essential aspect of the project involves active networking and collaboration, including exchanges of scientists between TIET, India, and TAU, ARO Israel, at the respective laboratories leading to capability development. The project demonstrates the steadfast commitment of the centre's endeavours in developing innovative, affordable scientific and technological solutions for food security in line with Goal 17(Global partnerships) of UNSDG.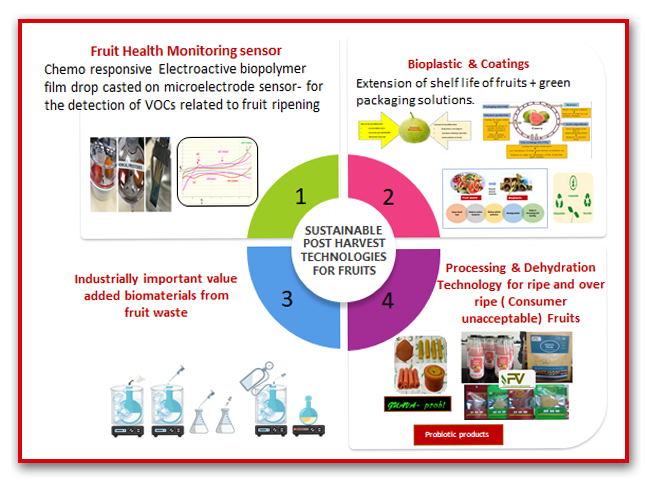 READY TO LAUNCH: GUAVA PROBI
(TIET-TAU CENTER OF EXCELLENCE FOR FOOD SECURITY)
Guava Probi - Powder made from freshly pureed guava fermented with probiotic culture with preserved functional properties of both for immunity, health & wellness for all age groups, suits all occasions. Ready to make Guava cheese, Cakes, Roll ups, bars, Jam, Jelly, Chutney, Soups, Ice cream, candy, Drinks & Smoothies in just few minutes.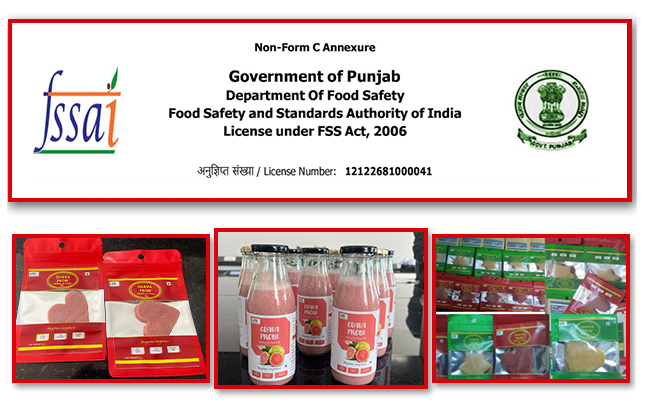 FV PLUS AGROTECH INNOVATIONS LLP develops and apply game changing solutions for solving food security issues. Solutions to mitigate post harvest losses involve innovative, affordable processing technologies. Technologies to increase shelf life of fruits and vegetables, maintenance of nutrition quality and safety.
CONVOCATION
"Take pride in how far you've come, and have faith in how far you can go".
Convocations are all about celebrating achievements. Thapar Institute organised the 36th Convocation for its UG/PG/PhD program students and distributed the degrees. A total of 2461 degrees were awarded which covered a wide range of disciplines and specialisations offered by the seven engineering departments and five schools under the institution.
Distinguished Alumnus Award 2022

Air Marshal Jagjeet Singh is the only Thapar Alumni who rose to the rank of a Three Star Officer. He is a highly decorated officer with several honours and awards to his credit, including the Vashisht Seva Medal and Param Vashisht Seva Medal, awarded by the Honourable President of India on 26th January 2007 and 26th January 2016, respectively. Thapar Institute took the opportunity to honour its distinguished alum, Air Marshal Jagjeet Singh, for his significant contribution in the field of Defence and Engineering at 36th Convocation.
Air Marshal Jagjeet Singh has always believed in giving back to society and has instituted several scholarships for children, including differently abled children. Post-retirement from active service in the Air Force, he has served as the Senior Vice President of the Air Force Association and Vice Chairman of the Marshal of the Air Force Trust for the last six years.
Here are glimpses from the 36th Annual Convocation of Thapar Institute of Engineering & Technology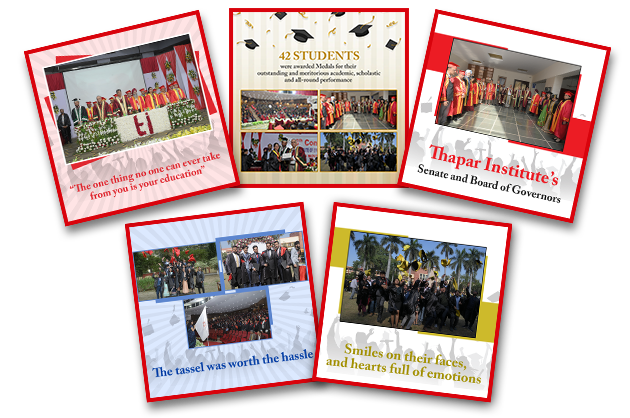 TIET Library appeared on the cover page of University Trends Published by Taylor and Francis
With the contemporary five- storey structure, Thapar Institute's Nava Nalanda Central Library is housed in centrally air-conditioned spacious premises covering an area of 25,000 square feet. It has over one lakh books (reference books, course materials, textbooks, etc.)
We are proud to be featured amongst the world's most prestigious cover page of University Trends, published by Taylor and Francis.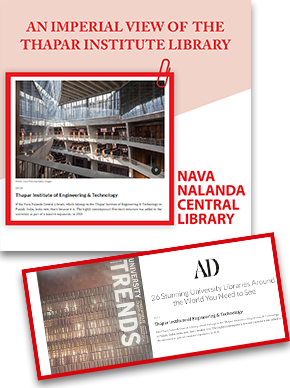 BHARTIYA BHASHA UTSAV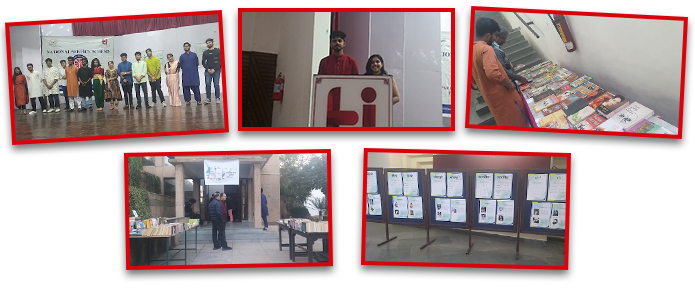 Cultural enthusiasts witnessed an enthralling celebration of Language and Culture at TIET on 12th December 2022. The occasion was Bhartiya Bhasha Utsav, jointly organised by Literary Society, TIET in collaboration with National Service Scheme, TIET. An exhibition of books in the various Indian regional languages was organised along with an exhibition on various aspects of Indian languages. There were cultural performances such as classical singing in different languages, and traditional and folk dances, as a part of the event. Students and faculty dressed up in traditional attire to attend the mesmerising event!
Thapar Student Satellite Program (Thaparsat)
Thapar Institute of Engineering & Technology (TIET) is one of India's oldest and finest educational institutions, which provides a steady source of highly skilled talent to the nation as well as overseas. We are proud to carry forward the legacy of our founder late Lala Karam Chand Thapar who believed that "India can truly enjoy the fruits of independence when it seeks to become economically strong. It can reach its full potential only if its youth are educated to be among the world's most respected, motivated and highly trained technical workforce".
Taking a step forward in this direction and to impart its students with experiential learning in engineering and technological developments involved in satellite building and space missions, TIET's chairman Mr. R. R. Vederah and Director Prof Prakash Gopalan are proud to announce its first student nano-satellite "Thaparsat" to be flown in Low Earth Orbit. A highly dedicated team of 25 students and 6 faculty mentors from different engineering departments are involved in building individual subsystems. The satellite aims at doing real time monitoring of pollution due to greenhouse gases, measurement of soil moisture content in primarily Punjab and in general, Northern India and regular monitoring of methane gas across the Indian subcontinent. It will be useful in monitoring the environmental and agricultural aspects across Punjab and northern part of India in general.
TIET is collaborating with Data Patterns, Chennai for the student satellite project. Team at Data Patterns have been actively involved in assisting and mentoring the teams of TIET during different phases of satellite and monitoring station development.
Management and the project execution team are extremely thrilled on the inauguration of Thaparsat Satellite Monitoring Station which embarks a landmark for their ambitious project. The station was inaugurated by Dr A.S. Pillai, Founder CEO and MD, BrahMos Aerospace (member BOG, TIET) and Mr. R. R. Vederah, Chairman BOG, TIET, in presence of Prof Prakash Gopalan, Director TIET, other faculty members and administration staff. The team aims to launch the satellite by the PSLV launch vehicle of India from Satish Dhawan Space Centre, Sriharikota, Andhra Pradesh by Indian Space Research Organisation (ISRO). The proposal for the same will be shortly submitted by the TIET team to ISRO.
"The proposed satellite has potential applications in areas other than air pollution and soil moisture content", quoted Dr A.S. Pillai. To this Prof Prakash Gopalan added that TIET is also planning to collaborate with different government bodies, research centers and universities across Punjab for potential applications using Thaparsat and the ground-station available at TIET, Patiala.
Thaparsat carries a mid-infrared detector in the wavelength range of 2 – 5 micrometre and we have established a fully equipped monitoring station at TIET campus, Patiala, Punjab, to regularly track the satellite and process the payload data for various applications. It has been a fulfilling journey under the able mentorship of Dr A.S. Pillai & the management of TIET and we are looking forward to successfully completing the project in stipulated timespan quoted the project incharge Dr Mamta Gulati.
Objectives:
Real-time monitoring of pollution
Regular monitoring to detect methane gas leakages
Measurement of soil moisture content for soil quality and crop management
Study of crop yield enhancement
Measurement of sea surface temperature
TIET is developing its first student nano-satellite "Thaparsat" to be flown in Low Earth Orbit.

Team Fateh
Team Fateh has always strived to consistently achieve the best possible results in every season. A team of dedicated engineers motivated to bring innovation to the design and engineering of race cars. After excelling in Formula Bharat 2022, the team was laser-focused on its efforts towards SAE Supra. The days leading up to SAE Supra were intense.
Every competition has two parts, statics and dynamics; A team must do well in both static and dynamics as it is vital for the team's success. The team worked hard to ensure every report was submitted on time and accepted without penalties. With the days to SAE Supra becoming fewer, work intensity increased. Now it was day in and day out to get the car in working condition and,more importantly, TI ready. No car can run in a dynamic event without clearing its technical inspection. Hence, a car must comply with all the rules and be safe for the driver. A few days before the competition, the Powertrain department went to a professional engine dynamometer facility to tune our engine for optimal performance. The car was transported to Noida then, where the team worked on the car for a whole week to provide the finishing touches before the event to prepare the vehicle. The event spanned four days; the first day was registration and getting the car cleared at TI. The team almost managed to get the TI sticker on the first day, but due to some minor schedule problems, it was postponed to the next day.
The second day rolled in, and the first task was to get the car to the TI pits. The second day was hectic, but the team passed every inspection and excelled in the static events that day which included Engineering Design Report, Cost and Manufacturing Report and Business Plan and Marketing Strategy Presentation. The next day was running the car in skidpad, autocross and acceleration.
The team had the fastest car and topped the tables. It was surreal; it was the first time the team could finish every event and not just finish but do well. The final day was Endurance, the final stretch of the competition. The team was first in the Pit Lane to line up as they were fastest in acceleration; now, it was ten laps of half the length of the Buddh International Circuit. The air was electric, everyone shouting and chanting to support their teams. The idea of seeing the car run on a track like the Buddh International Circuit was as unreal as it got, but the dream didn't stop. Not only did the car run, but it was the fastest too. Team Fateh's car was a whopping 23 seconds faster than everyone. The roars didn't stop; the team had done it. Car number 45 had won the Endurance.
It was the first time in the team's history; all the hard work had paid off. The results were no different from how we had performed. Team Fateh was 1st in Endurance, 1st in acceleration, 2nd in EDR, and had the best-tuned engine. Overall the team placed 2nd in SAE Supra. The Faculty advisor Dr Devender Kumar also won the Dronacharya Award for being the best team mentor, without his consistent support the team would not be able to achieve their goals. With another notch on the belt, the work never stops for Team Fateh. With the dream to become one of the best FSAE Teams in the country and worldwide, Team Fateh always strives to keep innovating, experimenting and building a community of excellent engineers.
Rankings and Accreditations
Thapar Institute of Engineering & Technology continues to be among the highly ranked institutes. We stay committed to research, innovation and delivering outcome based learnings to ensure that our students emerge as well-rounded leaders of the future.
The National Board of Accreditation (NBA), India was initially established by the AICTE (All India Council of Technical Education) in the year 1994, in order to assess the qualitative competence of the programs offered by educational institution from diploma level to postgraduate level in engineering and technology, management, pharmacy, architecture and related disciplines, which are approved by AICTE.
3 Programs get accredited after the NBA team visited in October 2022
UG – Biotechnology (6 years)
UG – Mechatronics (3 years)
UG - Electronics (Instrumentation and Control) Engineering (3 years)
Collaborations
a) MoU with MG Motor India Private limited
| | |
| --- | --- |
| | Founded in the UK in 1924, Morris Garages vehicles are world-famous for their sports cars, roadsters, and cabriolet series. MG Motor India presents Gloster to Thapar Institute of Engineering & Technology by Patiala to strengthen skill development and bridge the gap between academia and industry. The initiative is aligned with the MG Nurture program and per MG's goal of CASE (Connected, Autonomous, Shared, and Electric) mobility. |
The partnership introduced students to vehicular systems and helped them understand how to perform primary inspection procedures on cars. It also empowered students with hands-on research on various electrical, electronic, and mechanical systems of technologically advanced vehicles.
b) University of Toledo
The University of Toledo (Ohio. USA) and LM Thapar School of Management (Dera Bassi, India) (hereinafter "LMTSM*) aims to establish cooperative relations between the two institutions, and especially to develop academic and cultural interchange between them through mutual assistance in the areas of education and research, hereby resolve to cooperate in the academic development of programs and academic affiliations.
c) University of Queensland
TIET and UQ signed an agreement to appoint a Chair in Data Sciences at UQ on 17th November, 2022.
Data Sciences Chair
TIET and UQ have signed an agreement to appoint L M Thapar Chair in Data Sciences in the School of Electrical Engineering and Information Technology at UQ.
UQ and TIET have also agreed on a larger institutional agreement of Teaching & Learning
Placements
Thapar Institute of Engineering & Technology inspires students to find their passion and build impactful careers. We applaud our students' placements with global tech leaders and wish them the very best for their future endeavours!
New Infrastructure
New Girls Hostel
The construction of New Girls Hostel (928 Students) was completed on 29th August 2022.
Two seater room – 464 Nos.
Guest Room – 2 Nos.

Hostel B
The construction of Hostel - B (723 Students) was completed on 27th August 2022.

Hostel C
The renovation work of Hostel- C (387 Students) was completed on 18th August 2022.

Hostel Q
New Girls Residence: Hostel-Q was inaugurated by Prof Ariel Porat, President, Tel Aviv University, Israel on 11th December, 2022.

Center for Academic Practices and Student Learning: (CAPSL)
CAPSL (Centre for Academic Practices and Student Learning) has started in the year 2016 in collaboration with Trinity College Dublin under the present contemporisation program at TIET. The basic objective of this program is to motivate and train the faculty members of various departments to excel in their teaching by shifting from teacher-centred learning to student-centred learning.
The program focuses on the professional development of the faculty by training them through various modules, showcase events, Community of Practices (COP), expert sessions etc. After completion of the preliminary module, the interested faculty members are also sent to Trinity College Dublin for further learning of advanced modules.
The new batch for 2022-23 started on 12th December, 2022.

Research at TIET
i) Patent granted for work in Advanced 5-Axis CNC Machining
Thapar Institute takes pride in congratulating Dr Ravinder Kumar Duvedi, Prof Ajay Batish, Prof Sanjeev Bedi, and Prof Stephen Mann for being granted Indian Patents for their work in Advanced 5-Axis CNC Machining.

The Department of Mechanical Engineering has attracted numerous prestigious research and infrastructural grants in recent years from agencies such as AICTE, DRDO, and DST to list a few.
ii) Patent granted to Bhaskar Tripathi and Dr Rakesh Kumar Sharma
"Research is the reconnaissance party of the industry, roving the unknown territories ahead independently, yet not without purpose, seeing for the first time what all the following world will see a few years hence."

The patent is awarded to Bhaskar Tripathi and Dr Rakesh Kumar Sharma for their research and innovation entitled "A mind-controlled portfolio optimization and backtesting system for online trading" and "A blockchain- and loT-based system to improve network security."
Students' Corner
Achievements
i) App@thon
We participated in TiE University Global App@thon 2022, endorsed by Major League Hacking. Solving real-world business problems was the theme of the recently concluded App@thon - a hackathon with a twist. Conducted in a hybrid setting by TiE University Global, a flagship program of TiE, the event brought together 598 participants from 10 different countries.The 20+ hour non-stop event on October 8th and 9th required college teams to create wireframes and provide innovative design solutions to business challenges proposed by sponsoring companies.

A phenomenal journey of 20+ hours of brainstorming, problem-solving, teamwork and victories. The TiE University Global App@thon 2022 was a hub of round-the-
clock activities and action by the very vibrant and enthusiastic bright young university students. Thirty-two judges globally rated the solutions.
Speaking and reading are the most fundamental things for the development of any individual personality. Therefore, it is essential to inculcate them in children at the right age. We saw this part as the most critical and found us capable of presenting a solution to it through our app development skills. Hence we decided to take this challenge to show our ideas through the current skill set and polish the skills more.
Firstly the wireframes and prototype were built by the design team. We used professional open-source software, namely Figma, to create wireframes and prototypes. We also used many plugins and vector art to accord elegance to the icons used in the app.
Our team ran into many challenges for the successful completion of this project. The main challenge was to learn Figma(designing software). The design team faced numerous challenges while learning Figma and creating wireframes through it. We learnt many new things in this App@thon. We learnt how user-friendly UIs and wireframes are made. We also learnt to interact with other teams present here in the offline hackathon. Dr Tanu Goyal mam, and Dr Manisha Kaushal mam helped at every step whenever we faced any difficulty. Our College mentors were just one call away from us and helped us at every possible step.
Moreover, we leant how to be calm and Make a strong comeback when certain things go out of the way. We secured the first position in Challenge C1 and the audience choice award with a cash prize of 1100 USD.
ii) Sparktech Showcase 2022 by Walmart
| | |
| --- | --- |
| The team Nexus consisting of three members Anirudh Goel, Sneha Devrani, and Sahajdeep Singh Kharbanda were declared the winner of the Converge@Walmart SparkTech Showcase under the guidance of DrPrashant Singh Rana and Dr Rohit Ahuja. After going through several rounds and competing with 1300+ participants, 450+ ideas, and prototypes, the project finally was adjourned as the 1st position in the student's team. | |
The team also developed a blockchain-based eCommerce interface that provided the transfer of ownership certificate in the form of a digital warranty at the time of transaction. Using blockchain contracts, we have added advanced features like repair facility, transfer of ownership on resale, transfer history, and loyalty points feature.
Price money: Rs. 1 Lakh
iii) IoT Trailblazer
'IoT Trailblazers' emerged as the first runner-up of the "Accenture Innovation Challenge" aimed at finding solutions that provide 360-degree value for the world. The competition saw over 1 lakh participants from across the nation competing in two categories of Engineering and Management.

Our team received fast-track interview opportunities and prizes worth over 75,000 INR per team member. Other than this, the team also managed to reach the Top 50 of "Samsung Solve for Tomorrow" (the first ever Indian edition), which had over 18,000 teams competing from across the nation.
The team was invited to IIT Delhi for a four-day boot camp, at the end of which they presented their innovation to industry experts from Samsung's R&D team.The team received an education scholarship worth over 1 lakh INR for each member and was interviewed by News18 Network.
iv) UNESCO INDIA AFRICA 2022 International Hackathon
We are proud that one of the teams of Thapar Institute won the UNESCO INDIA AFRICA 2022 International Hackathon. The students reached the finals after crossing several selection rounds and teamed up with people from Niger, Morocco and Mozambique.
23 countries, 603 students and 100 teams participated in this huge UNESCO and Government of India organised event from all over the world. Several important personalities including Vice President Jagdeep Dhankhar, Chief Minister of Uttar Pradesh Shree Yogi Adityanath and Minister of Education Dharminder Pradhan graced the event.
The event was held from 22nd to 24th November, 2022 and after a non-stop effort of 36 long hours the results were announced on 25th November with the Vice President of India himself awarding the winners and hosting the ceremony.
v) HackaNoddle
"When we strive to become better than we are, everything around us becomes better too." - Paulo Coelho

India's leading innovators assembled in Zomato's offices in Gurugram to build India's next unicorn. The hackathon witnessed fierce competition among the top 30 teams across the country, handpicked from a coding challenge.

With great pleasure, our Team "0xN00b Army" was declared the winner of this competition for building a sophisticated tool for the "Early detection of advanced dyslexia."
vi) Optum Stratethon 4
The MIST57 team bagged 2nd runner up position at the prestigious Optum Stratethon 4 aimed at finding convalescent solutions to help people live healthier lives through better healthcare systems.
The contest consisted of 8992 teams from across India, Philippines, Singapore, and Malaysia.
Along with the 2nd runner up position, the team also received the 'College Winners' award along with the 'Strength in Numbers' award for most registrations from the college, for the hackathon in the engineering track.
vii) Sports Achievement at TIET
The spirit of sports gives each of us an opportunity to be creative. We are incredibly fortunate to have some very talented sports personalities amongst us.
Kudos to the sports team for their amazing performance
viii) RANN NETI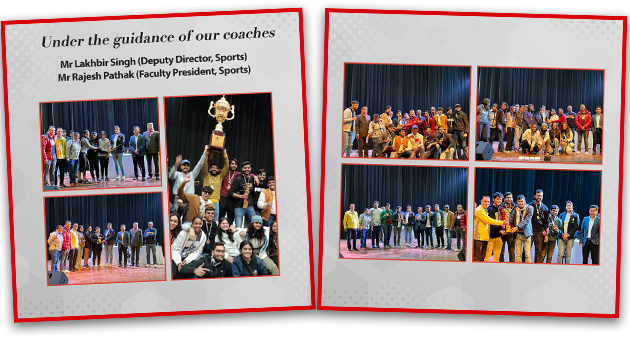 "A winner knows the price of success and develops a habit of coming out on top."
TIET's students created history by winning the Overall Trophy in RANN NEETI'22 (A National level sports tournament) organised by IIT Mandi from 6th-8th November, 2022. A total of 21 teams from different Institutions like IIIT Delhi, IIT Mandi, IIT Ropar, NIT Hamirpur, NIT Jalandhar, UIET Chandigarh, Chitkara Punjab, etc., participated in this tournament.
ix) Shalley Bakshi received Best Presentation Award
"We are what we repeatedly do. Excellence, then, is not an act but a habit."
Our PhD student Shalley Bakshi under the guidance of Dr Surbhi Sharma and Dr Rajesh Khanna, received the best presentation award, certificate, and DSO, as an award at an international conference held at Lithuania, Europe. For every success, tougher challenges await with greater stakes.
x) Sahil Dhiman granted Fellowship Award
Sahil Dhiman, a 2021 Postgraduate Student (Production Engg.) from Thapar Institute, completed his Master's thesis under the guidance of Dr Ravinder Singh Joshi and Dr Sachin Singh on "Recycling of Titanium Waste." For this project, he received a fellowship from the Office of Principal Scientific Advisor to the Government of India, housed at Invest India. We are proud of this huge accomplishment. Sahil's efforts and resilience need to be celebrated, as his dedication and hard work are incredible.
xi) Smart India Hackathon 2022
Students of Thapar Institute have once again proved their technical strengths by winning Smart India Hackathon 2022-GRAND FINALE. Smart India Hackathon - TIET legacy since inception!

Smart India Hackathon is a nationwide initiative by the honourable Prime Minister, Mr Narendra Modi, to provide students with a platform to solve some of the pressing problems faced in daily lives and inculcate a culture of product innovation and a mindset of problem-solving.
xii) HackOn with Amazon 2022
| | |
| --- | --- |
| Proud moment for Thaparians! Our students bagged the second position in 'HackOn with Amazon 2022' conducted by Amazon on HackerEarth under the mentorship of our eminent faculties. | |
xiii) Manthan Ideathon
"Genius is 10% inspiration, 90% perspiration."

Manthan was a six-week long ideathon being organised by SEBI in association with BSE, NSE, NSDL, CDSL, KFintech, CAMS, LinkInTime and MCX. It facilitated the creation of a pool of ideas and innovative solutions revolving around the securities market.

Danish Joshi of EIED, won in the national event and has been called to Mumbai to receive the prize and cash award of one lakh.
Industrial visit
Chemical Engineering students visited Panipat Refinery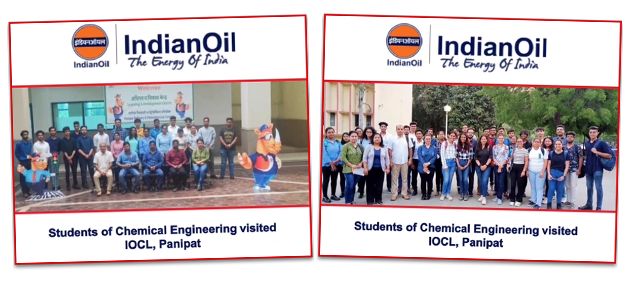 IOCL, Panipat is Indian Oil's seventh and the technically most advanced public sector refinery complex in India.
Department of Chemical Engineering at Thapar Institute organised an industrial visit for students to the Panipat Refinery. It was an excellent opportunity for students to witness the world-class technology used to set up an installed capacity of 6.0 MMTPA and a high level of industrial automation.
Student's Speak
Campus Innovations: How Student Projects Are Making Campus Life Easier
(Gunjeev Singh, 3rd Year, Department of Computer Engineering)
Working on real-life technical projects during one's university time is of paramount importance for technical students. These projects allow students to apply the theoretical concepts they have learned in class to practical, real-world scenarios. This not only helps students to better understand the material but also enhances their ability to think critically and solve problems independently. Additionally, working on real-life projects allows students to gain valuable experience in their field, which can be beneficial when seeking employment after graduation. Furthermore, it provides students with a sense of accomplishment and helps them to develop a sense of ownership and pride in their work.
At TIET, students are always encouraged to recognize problems that can be solved efficiently and develop technical solutions. At this point in time, many such student-powered projects are running on campus and are being used by thousands of students every day. Let us look at some such examples.
The Hostel Complaint Management System: To avoid manual entries, checks, and complaints, a group of students from the Batch of 2020 built a complaint management system under the guidance of Dr Inderveer Chana. The "CMMS Portal" simplifies the process of raising complaints for any maintenance problems faced inside hostel premises and also makes it easy for the administrators to fast-track complaints. The project is now used at every hostel and by thousands of hostel residents. Being a technical product, the web portal requires upgrading and maintenance, which is also done by a team of students who hands the project over to the next batch every year.
Revamping the Webkiosk: Last year, a group of students from the Batch of 2023 made a system to digitize hostel room allotments, room swapping, and leaves as their Capstone project. Building up on that, I, along with 3 other students, have taken the initiative to revamp the student web kiosk and culminate all services into one joint portal. This single portal would soon manage all aspects of a student's life, ranging from hostel rooms to academics and grades. We hope to roll out this portal by the end of this year. This project is also being built under the guidance of the Dean of Student Affairs, Dr Inderveer Chana.
Technical Culture and Exposure Outlets: All of this is possible only because of an established hierarchical structure that supports and promotes the technical and coding culture at the TIET campus. This structure includes the technical societies, clubs, and student chapters which promote the coding culture through peer-to-peer learning. These societies also act as exposure outlets for students as they help them network with like-minded people which later turn into teams building such projects. A great result of this is the ever-improving performance of our students at National Hackathons like the Smart India Hackathon.
When budding engineers engage in such supportive and peer-learning activities, the environment on campus develops into a space with endless opportunities, possibilities, and motivation. The result of the same is visible when one visits to campus and uses the services built and maintained ground-up by students!
I hope that this positive, innovation-promoting environment only grows as time progresses, and students identify and solve more and more problems and make TIET a totally technology-driven campus.
Education Through Corporation
(Udayan Mamgain, TSLAS/1Year)
"Corporations have existed ever since the brink of capitalism. They have provided the world with many revolutionary innovations, and one of those many innovations was the "Education Sector."
The intermingling of business and academic cultures benefit psychology and other fields. Due to the increase in 'for-profits,' schools and universities have been able to globalize the education sector and present it to the millions of students waiting for the right opportunity and provide rather brilliant results.
It should also be noted that benefits are not the only thing that corporatization of education brings; it comes with its challenges as well, challenges that have been dealt with sooner or later. According to the President of the American Association of University Professors (AAUP), Jane Buck, "Pandering to students rather than expecting them to do work to get a decent grade is not a very good idea, to put it mildly." Critics based on this claim that the passion for making profits for the stockholders encourages such institutions to push out as many graduates as possible, which some also see as a plus point rather than a critique.
The negative aspect of the corporatization of education is mainly focused on institutions striving to make profits. Still, it should be brought to light that this model is not taken well due to a lack of practitioners. Even though sound institutions prevail, the severe shortage of sound practitioners has led to many doubting the current education model because the higher-ups only know the tip of the iceberg, not what's underneath.
Not all is lost, and many institutions can enhance this model and work on it righteously. "Thapar Institute of Engineering & Technology" has been able to implement this model rather successfully when compared with other top institutions. Providing top education while also ensuring that the negative aspects of corporatization do not prevail, the institute has been able to give massive opportunities to thousands of students.
Corporatization involves profit, but it does not mean it cannot include doing well and doing good at the same time; this has enabled the institute to grow exponentially and become one of India's leading higher education institutions. Taking such immense steps has encouraged the institute to explore possible collaborations deliberately and engage with corporations and other partners only in areas with sustained faculty interest and academic strength.
Changes are constantly happening in the education sphere, and there are a lot of doubts regarding the same, with plenty of academicians arguing that they are not a corporation or businesses. They fail to understand that even if that is true, it applies to an ever-changing world and that they are the vital points in this entire structure.
There is a severe need for underliners to get involved as, over the last two decades, the academic sphere has changed drastically, and it is predicted that the next decades will provide us with even more radical changes. To ensure that these changes still hold education as a priority, there are hopes for everyone to get involved to help define higher education in the next 20 years.
Is Development Truly Helping Us Develop?
(Ayesha Gupta, 2nd Year, Department of Computer Engineering)
"A rose is a rose is a rose" is a famous line in Gertrude Stein's poem "Sacred Emily". Stein's explanation of this phrase was that simply using the name of a thing already invokes all images, emotions and thoughts associated with it. It's a simple law of identity."
Taking this leaf out of Stein's ideology, let's talk about development. After hearing this word, the first thoughts that come to our mind are progress, prosperity, faster technology and more money. We imagine small mud huts turning into million-dollar skyscrapers, scrawny village roads turning into 16-lane highways, and Tagore's Shantiniketan becoming an average public school franchise with shiny glass windows and a swanky coffee shop. Development is development but is it indeed development? For millions, development equates to starting anew every hour, revamping and rebuilding their lives every day, with no jobs, worse living conditions, cluelessness and confusion.
Development is defined as any event contributing to a new stage in a changing situation. Associating that "new stage" with something positive is a privilege, not a fact. So the question of whether development is genuinely helping us develop is rather complex and nuanced.
Looking at this question from the standpoint of an engineering student, my instant answer would be yes; development is definitely leading me into a better future because it means more innovation, better, faster technology and a greater employment pool. But let's take this thought process half a step forward. Better technology also means the advent of the age of AI. With only one AI tool gaining popularity, the massive student population of STEM subjects across the world has already started questioning, "is AI going to eat our jobs?" If a single new product in the endless world of technology is causing panic amongst the very community that created it, then think about the millions of jobs that every new line of code we develop eats up. What about all those daily wagers who, one fine morning, found themselves replaced by a giant hunk of metal? Is the "development" in healthcare of any use to the poor farm help who still cannot afford a simple paracetamol?
All of us studied this chapter called "The Age of Industrialisation" in our 10th-grade history textbooks, and right after "Why did production increase during the war" and "How did the 18th-century inventions increase cotton production" the examiner's favourite question from this chapter was some variation of "What were the disadvantages of the industrial revolution?" Allow me to give you the answer:
Horrible living conditions for workers
A stressful and unsatisfying lifestyle
Discrimination against women
Environmental harm
Does any of this sound familiar? We are still fighting the same battles that we were fighting in the 18th century but with more extensive and deadlier weapons this time. George Santayana famously said, "Those who cannot remember the past are condemned to repeat it." On the other hand, we are consciously teaching our kids about history and still repeating the same mistakes. If our world truly has "developed" so much, why do we have half a generation crippled with mental illnesses and the other half fighting for the very existence of this planet a few hundred years down the line?
So, are we truly moving forward, or are we heading towards doom once again, but with folding phones and 5G internet? Albert Einstein is quoted as having said, "I know not with what weapons World War III will be fought, but World War IV will be fought with sticks and stones." But I would rather say no matter what weapons we fight World War III with, at this rate, no world will exist for the fourth war.
Faculty Corner
i) TOP 2% Of Researchers Worldwide
The database provides standardised information on citations, h-index, co-authorship-adjusted hm-index, citations to papers in different authorship positions, and a composite indicator.
The accomplishment of all the faculty members listed in the Top 2% of researchers worldwide is recognised as a big feat by Thaparians and the scientific community. Based on the bibliometric data in the Scopus database, this rating is most respected globally.
The database offers standard statistics on citations, h-index, co-authorship-adjusted hm-index, citations to publications with various authorship positions, and a composite indicator.
ii) AGPHARM BIOINNOVATIONS LLP
"All our dreams can come true, if we have the courage to pursue them."

AGPHARM BIOINNOVATIONS LLP was selected as one of the Best Early-Stage Startup Category at ROAR - Punjab's biggest idea hunt held by Innovation Mission Punjab and Startup Punjab on 31st August 2022 for their bioorganic innovative product- VOLAFRESH used for extending the shelf life of fruits and vegetables.
The Certificate of Appreciation carried a cash award of Rs. 2 Lakhs and was received by the Founder, Dr Sanjai Saxena, from the Chief Minister of Punjab, S Bhagwant Mann, on 5th September 2022, at the inaugural function of Innovation Mission, Punjab; Accelerator at Kalkat Bhavan.
Alumni Corner
Ritwik Mehta
| | |
| --- | --- |
| India's incredibly diversified and inclusive entrepreneurial landscape is fueling a significant increase in start-up formation and business incubation. As faculty members and students research various scientific and technological fields, TIET has a strong scientific and technological research and academic background. We are extremely proud of Ritwik's accomplishment and wish him luck in his future endeavours. | |
Events at TIET
i) Training session on Implementation of sexual harassment of women at workplace
The workshop was inaugurated by Prof Ajay Batish Deputy Director, TIET, Patiala by lighting the lamp followed by his welcome address.
It opened with a training session on 'Implementation of Sexual Harassment of Women at Workplace (Prevention, Prohibition and Redressal Act, 2013)' for ICC members of TIET followed by subsequent workshops for all non-teaching staff of the university (including administrative staff, laboratory staff, security staff, janitors and mess employees) in 4 separate sessions.
The working professionals of Thapar Polytechnic, TIET, Patiala also attended this workshop. Mrs. Aparna Jain, Founding Partner and Advocate, Knowledgentia Consultants, New Delhi was the speaker on this occasion.
ii) Saturnalia
SATURNALIA, a legacy of the Thapar Institute of Engineering & Technology, one of the largest nationally recognized Annual Techno-Cultural fest is back after a long wait of 3 years with a promise of a bigger and better celebration. It aims at synthesising and presenting technological and cultural talents in a fun and frolic way with multitudinous events.

With the theme 'The Cosmic Dawn', the fest provided a platform for famous Singer Zaeden and a highly reputed EDM artist, Lost Stories, which are sure to leave fond memories for years to cherish.
We also had a series of technical events, including hackathons, along with cultural competitions like singing, dancing, and acting, where students from other colleges participated to compete and present their flair.
iii) AIESEC YOUTH SPEAK FORUM
Youth Speak Forum was a premier event that brought young and senior leaders together to form a diverse, cross-sector, and multigenerational space for inspiring conversations around pressing global issues.

It was a speaker event where we inspired the crowd to experiment, innovate and invest in creative, self-made career paths as a career scope and take the leap of faith to begin their entrepreneurial journey.
iv) Hacktoberfest
Thapar Institute of Engineering & Technology was elated to announce the eighth edition of DigitalOcean's month-long festival honouring open-source software development- 'Hacktoberfest 2022'.

People from a wide range of tech stacks had access to these projects and contributed for the same.
v) Cleanliness drive
Thapar Institute was proud to organise the Cleanliness Drive in collaboration with the National Service Scheme.

The cleanliness drive was a wonderful opportunity for students as it helped to raise awareness of the importance of cleanliness for a sustainable society.
vi) IEEE Day
"You can build the tech"

IEEE was on a mission to solve the problems by simply learning & teaching technology. We conducted social and technical activities for students and created awareness and encouraged students to utilise the benefits of IEEE membership, including scholarships, competitions, and conference grants.
vii) Lecture session organised by CARE society
Chemist's Association for Research and Education Society (CARE) encouraged students to join the Science stream as a career option. It provided a single platform for students and researchers for their scientific and methodical growth.

CARE, earlier known as SCORE, was established in 2009 by faculty members and students affiliated with the School of Chemistry and Biochemistry, TIET, Patiala.
viii) Maruti Suzuki Leadership Connect Session
| | |
| --- | --- |
| | We were enthralled to have India's largest carmaker - Maruti Suzuki India Limited, conduct a leadership session at Thapar Institute. This educational session for the third-year and final-year students (Mechanical, Electrical, Electronics, Production, Mechatronics) was insightful as students got a chance to interact with the speakers and discuss the upcoming trends and changes in the sector. |
Thapar Institute Counselling Cell (TICC)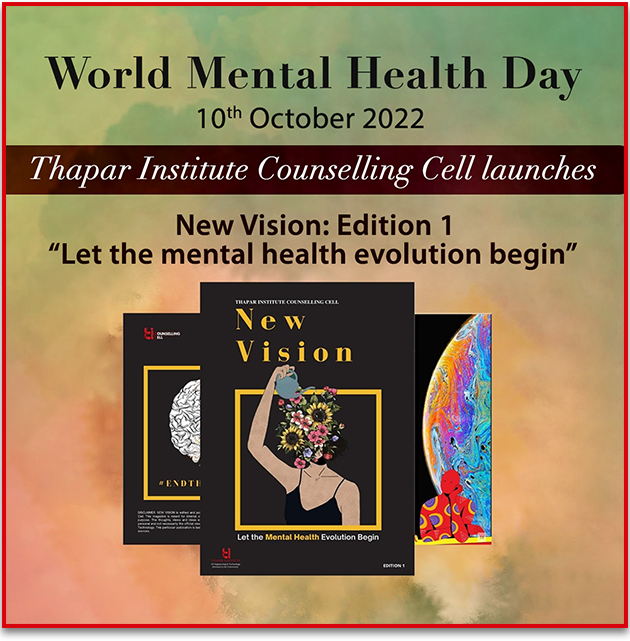 Launch of e-Magazine - 'New Vision' on the occasion of World Mental Health Day, 10th October 2022. A semesterly publication, this magazine contains content curated to acquaint you with various aspects of mental wellness. The magazine provides a unique and enriching perspective regarding the fight against the most common mental illnesses. Whether you enjoy reading articles and opinion pieces, navigating through insightful interviews, or making efforts to enhance the quality of your life through articles by experts - this magazine has something for everyone!! You may use the following link to access the magazine: Link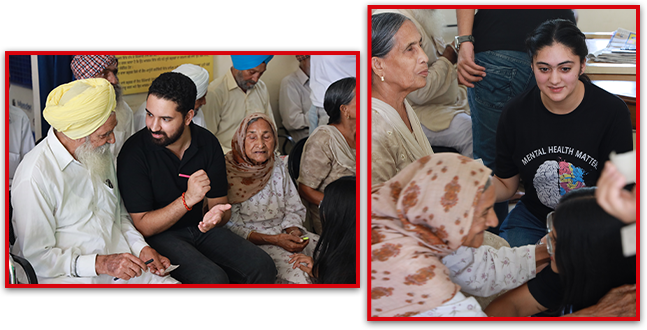 Workshop on Self-Love and Care (Celebrating World Mental Health Day 2022 from 12th-13th October, 2022:
To promote World Mental Health Day 10th October 2022 campaign of "Make Mental Health & Well Being for all a Global Priority", TICC along with Rotaract Club of TIET and Echoes Club of TIET organized a workshop at Aged Day Care and Wellness Centre, Village Rongla, Patiala on 12th October 2022:

Mental Health Student Ambassadors (MHSAs) from TICC spent quality time with elderly people and listened to them pour their hearts out, as they shared with us their routines, habits, and the younger days of their life and carried out conversations venting out their feelings and emotions.
Members of the Rotaract Club carried out recreational activities hence bringing smiles and cheering up the elderly people.
Members of Echoes played an important role by recording, taking interviews of elderly and capturing the wholesome moments for everyone to cherish.
The entire team functioned smoothly under the very able guidance of Dr Sonam Dullat, (Manager Student Counsellor) who, along with managing the team, lent the old people a fit ear to hear them talk about their lives and problems.

To promote World Mental Health Day 10th October 2022 campaign of "Make Mental Health & Well Being for all a Global Priority", TICC along with Rotaract Club of TIET and Echoes Club of TIET conducted an interactive workshop on self-love and care which was held at Ryan International School, Patiala on 13th October 2022.

We held three sessions, for 120 students from class 9, 120 students from class 10, and a combined session for 100 students from classes 11 and 12.
Mental Health Student Ambassadors from TICC initiated the session with an interactive talk, including topics like mobile addiction, less concentration, short attention span, behaviour and family issues, and hyperactive behaviour, followed by mindful meditation. The talk was followed by another inclusive talk on "Self Love and Self Care", enabling the students to understand and implement in their lives the practical ways of self-love. The talk was also facilitated with activities for students.
Along with the MHSAs, Dr Sonam Dullat (Manager Student Counsellor) also addressed the students about self-love and the correct way to practice it. She also answered the doubts that students had, hence making them less reluctant to talk more about Mental Health.
Next up was an interactive session on "Soft Skills and Communication", by the members of the Rotaract Club of TIET.
We were also accompanied by the very professional members of Echoes, who captured the sessions for everyone to cherish. The members of Echoes worked tirelessly and did a phenomenal job in recording the admirable moments from all three sessions.
Centre for Training and Development
Centre for Training & Development (CTD) organised a 'Placement Symposium' for UG final year students in the first week of August 2022. The program was attended by over 1300 students, and entailed a near-real simulation of the campus placement process. As a part of this program, one-on-one mock interviews were conducted by industry and domain experts, followed by feedback on performance, attitude, behaviour & communication. Group Discussions and Case Studies were also organised for all the participants, keeping in mind previous trends and patterns during campus placements. Practice sessions were corroborated with intensive knowledge and concept sessions, covering tips to excel in interviews, group discussions, case studies, guesstimates and aptitude tests. Particular emphasis was laid on preparing resumes, and customising approach and efforts for technical, consulting and product roles.
All participants were given access to preparatory material for campus placements, including 100 plus company specific tests, and concept & practice modules for quantitative ability, data interpretation, logical reasoning and verbal ability. The material also provided practice questions for different branches of engineering. The event was followed by regular GDPI practice sessions for students till November end, to consolidate their learning and prepare them for the selection rounds of various companies.
CTD conducted a special assessment & development drive,from September 10 - 18, 2022,for UG third year students with the following components:
A strategically designed Skill Assessment Test (SAT), comprising MCQs and spanning across diverse skill domains deemed to be critical for professional development and success, apart from core technical skills.
A detailed student report, indicating student capabilities across these various skill domains.
An e - handbook on skill enhancement.
The program was conducive in giving the students an understanding of 'how to address the gap between current and expected skill levels' and 'how to prepare for the internship / campus placement interviews'.
CTD conducted the following certificate courses in the academic semester August – December 2023:
Personal Branding for UG 1st year students, covering areas like empathy, people & collaboration skills, proactive and positive attitude, critical thinking, persuasive discourse, negotiation techniques, decision making and conflict resolution.
Financial Data Analytics for UG 1st year students, covering various aspects of financial data analytics using Power Business Intelligence and Excel.
CTD organised a special training program for IEP students to prepare them for the writing section of the IELTS test. The program was delivered by a senior domain expert and author, with a strong presence as a writer in print media.